A Soul of a City
The film "A Soul of a City" are based in my film project Kiruna- Rymdvägen (Kiruna – Space road)
The film "A Soul of A City" is about the big Industry and the natural organic movement of all the living to death; the people in the City, and the Ore Mine that have created the soul of the City.
A film By: Liselotte Wajstedt
Music: maja Ratkje
Animation: Maja Fjällbäck
The whole film is exhibited in Bildmuseet in Umeå to the end of oktober 2012
Mina tryckta tröjor och väskor med texter inspirerade av Demonstrationer i Kiruna på 80-talet, är färdigtryckta.
Anna Adermalm, Minx design i Boliden har tryckt dem.
Just nu säljs de på Bildmuseet i Umeå!
Man kan också beställa dem från mig.
My new documentary film, will be ready during 2012!
Kiruna – Rymdvägen / Kiruna Space Road
ca. '52 min
Director, edit, script: Lisleotte Wjastedt
Producer: Anna G Magúsdóttir LittleBig Production
In co-production with: Filmpool Nord, Sirel Peensaar och Sveriges Telivision AB, Eva Sandelin
With support of: Svenska Filminstitutet Tove Torbiörnsson
Kiruna – Space Road is a documentary film project in collaboration with Littlebig Productions, Filmpool Nord, SVT,  SFI and Norrlands läns landsting.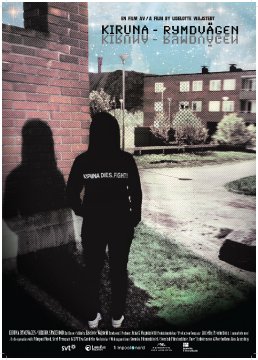 SVENSKA
"Mitt Kiruna ska rivas och jämnas med marken.
När jag först hörde att Kiruna skulle flytta blev jag rädd. När jag sen förstod att det var "mina" områden som skulle rivas först fick jag panik. Vad skulle då hända med mina minnen? Vad minns jag egentligen?"
Filmen handlar om mina barndomskvarter som ska försvinna och bli ett hål… den vetskapen väckte en slags panik i mig och många frågor: Vad kan jag bevara? Vad ska man bevara?
I det stora hela handlar filmen om staden som jag minns den från min tid där, mellan 1973 då jag föddes och 1991 då jag flyttade därifrån.
Det handlar om att förstå hur staden är konstruerad kring den stora gruvan, som ruvar intill oss och staden som ett slags monument över vår existens.
Filmen handlar också om att försonas med sitt förflutna och det handlar i grund och botten om en förlorad trygghet och vad trygghet egentligen är.
ENGLISH
My project is about past and present. I am looking for my old friends from childhood time. Together, we recall a past time and a place to disappear, while I ask them how their daily lives are today. Kiruna is moving and so are they.
I ask myself: How do you remember, and how do you know that what you remember is really right?
We were the children who grew up in the 70 80-century in Kiruna. We lived in "company region", our fathers worked in the large state-owned LKAB iron ore mine. Mine incubated over us and the city as a great and safe monument to our existence. Without it would Kiruna never existed and probably neither have we. There we had to teach us early.
My friends will be able to acquire new memories in the new Kiruna. But not me, I do not live there. I live 1400 km away in another town.
That's why I make this movie. It is a way for me to preserve, a way to remember something that soon is gone. remember before it is too late.
My parents and siblings live in the area. So I still have access to the houses but they are no longer mine.
Background
Kiruna was built in the early 1900s by the founder, and our hero Hjalmar Lundbom. Mine grew and strengthened Kiruna and soon was Kiruna a rich city. Finance prominent architects were invited and the city of Kiruna was built in the 50's. It sprouted and bubbling with life and the future.
My father was employed in the then privately owned mine in the mid 60s. Later went to the mine to become publicly owned, and my father met my Sami mother, and they got me 1973.
We lived in LKAB's own residential area closest to the mine. We children went to the companies school.
There was a recession in the late 70's. Kiruna fought for their future and the belief.
On the walls were slogans written: 'Kiruna die, fight'
We children had to learn that in Sweden there were no classes, we were all equal.
In the late 80s and turned it Kiruna was again a "Future City". LKAB was strong throughout the 90-century and into the 2000s. Today in 2009, it is clear that the Company area threatens to collapse into, down into the underground because of ore mining in the mine.
Its passageways winding further and further into the city. LKAB has found a new bonanza that goes straight through the city and the fact is that Kiruna have to move.
The Art Project:
Kiruna – Space Road is also an art project. I have made a huge modell that can be exhibited together with some animated shortfilms or pictures.
The first exhibition I participate in is at Umeå Bildmuseeum KIRUNATOPIA 20 Juni – 28 Okt 2012. See the link:
http://www.bildmuseet.umu.se/utstallningar/2012/kirunatopia/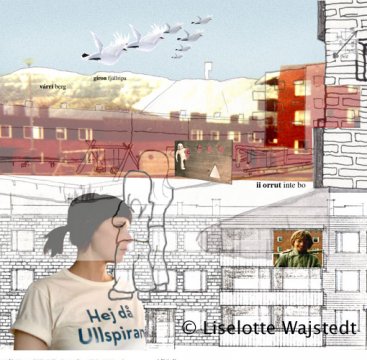 Link: http://www.bildmuseet.umu.se/utstallningar/2012/kirunatopia/
Text från Bildmuseets hemsida:
Tolv konstnärers verk om en stad i förändring. Vilka processer genomgår ett samhälle och dess invånare när områden försvinner och nya delar byggs? Vilka minnen väljs bort och vilka framtida bilder skapas?
Bildmuseet 18 mars – 6 maj 2012
Kirunatopia är en utställning av internationella och svenska konstnärers verk om en stad i förändring. Norr om polcirkeln, under staden Kiruna, ligger en av världens mest lukrativa malmfyndigheter där man bryter malm i gruvor tusen meter under jorden. Urholkningen av området leder till att sprickbildningar i marken rycker allt närmare staden. Kiruna måste flyttas från riskzonen.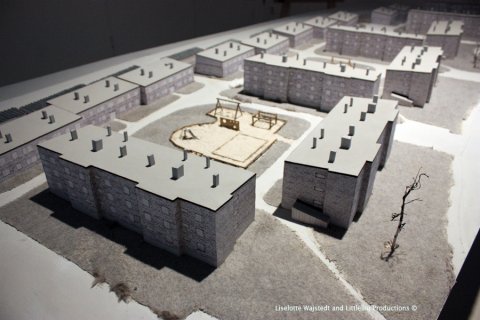 The videos and the still images of Liselotte Wajstedt explore the history and the future of the northern city of Kiruna. Given the imminent relocation of the entire city, due to the continued expansion of the mining industry, the key source of the city's initial growth, Wajstedt's works emerge as meditations upon the life – and death – of cities, of the intricate stratifications of past, present and future, played in people's memories and fantasies as well as in the cityscape itself. (Text av Jan-Erik Lundström, Curator)

"When you walk near the walls of Marozia, it may happen, when you least expect it, that you see a crack , an opening through which you are offered a view of a completely different city, a city which, in the next moment has, again, disappeared. Marozia does consist of two cities; the city of the rats and the city of the swallows. Both take turns yet the relationship between them does not change; the second is the one which is being disentangled from the first." Italo Calvino, Invisible Cities
© Liselotte Wajstedt
LittleBig Productions
GIRON
En film ur mitt dokumentärfilmsprojket "Kiruna – Rymdvägen"
Filmen handlar om Kirunas dåtid, nutid och framtid. Filmen berättas i tre sektioner; Old Giron som berättar om Kirunas historia hur namnet Kiruna kom till av att de båda fjällen Luossavaara och Kiirunavaaras toppar såg ut som två fjällripor som satt och talade med varanda.
Good Bye Ullspiran berättar mitt Kiruna och mina minnen från det område som ska rivas först, Inspirerat av en text ur Italo Calvinos De osynliga städerna. Sista sektionen handlar om Kirunas nutid och framtid: Kiruna – Rymdvägen.
Citat:
"När man går tätt intill Marozias husväggar, kan det dock hända, när man minst anar det, att man får se en springa öppna sig och man får syn på en helt annan stad, som i nästa ögonblick är försvunnen igen."
Marozia består av två städer; råttornas och svalornas städer, båda växlar i tiden
Men förhållandet mellan dem ändras inte; den andra är den som håller på att lösgöra sig från den första." ur: De osynliga städerna, Italo Calvino